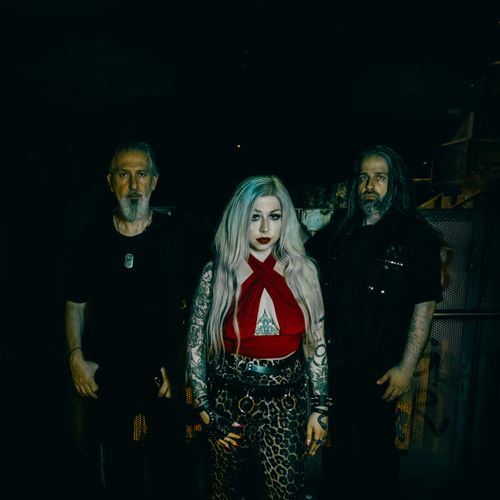 Interview with Female Voices Of Metal And Rock
Mark Waight asks Absinthe 8 Questions to Get the Real Stories Behind the Artists of Female Voices of Metal and Rock
How did it all begin for Absinthe Green?
I feel like it's not that easy for me to pinpoint a precise beginning. It's almost as if it was always a part of me in some form. And this is why I chose to use my stage name as the band name. However, I can say that I began to work more actively with the music for this project in 2016. It was during this time that Absinthe Green started to take shape, gradually evolving into what it has become today – a fully formed band.
What bands or artists have influenced you the most?
Listing specific influences is very difficult , as there are numerous sources that have deeply impacted me. My inspiration primarily comes from individuals who, in addition to their artistic genius, have the remarkable ability to resonate with my soul through their exquisite blend of gentleness and power.
Interestingly, many of them are no longer with us, such as Ludwig van Beethoven, who instilled in me the value of perseverance and the significance of embracing life's moments of "silence" and adversity.
Likewise, Sylvia Plath's work has taught me the importance of unapologetically embracing pain and speaking my truth without reservation.
Who is currently on your playlist?
If you take a peek on my playlist, you may think I have multiple personalities, as I enjoy a wide range of music, some of which can be quite contrasting.
One of my current favorites is Dodheimsgard's latest album, "Black Medium Current," which, in my opinion, ranks among the best releases this year.
I recently revisited Melvins' "Houdini" album, which hit the 30-year mark this year. it's a true gem that takes me back to my teenage years.
I've also been listening to the new Acacia Strain album, which I find perfect for working out.
And last but not least, I've also been delving into the sounds of Otoboke Beaver, Mannequin Pussy and similar girl punk rock bands quite frequently lately.
What would you do if you weren't a musician?
I can't imagine myself not performing or making music, but for the sake of the question, maybe I would do something related to communication, given my background with a degree in that field. I also love photography and fashion, so it's possible I'd explore either or both of these worlds. It's hard to imagine myself in a job that doesn't involve some form of artistic expression.
Where do you call home and what is the best thing about living there?
I've had the chance to live in both Greece and Germany, and while I really can't call a specific place my permanent home, I find great value the unique blend of cultures and experiences I've been exposed to. That being said, for me, the concept of home isn't tied to a specific location.
Instead, it's a feeling that arises when I'm surrounded by a sense of safety, security, the presence of music and wonderful company. That's what truly makes me feel at home.
What is next for Absinthe Green?
One of the major immediate goals is touring with the band, as we really want to bring our music to stages anywhere we can go, connecting with fans and delivering memorable live experiences.
Also, we are gearing up to release a series of singles that will give listeners a taste of what's to come in our upcoming album. With these live shows and new releases, I'm looking forward to sharing our music and connecting with more people all over the world.
 Who is best, cats or dogs?
While I have a deep love and respect for all animals, if I were to choose between cats and dogs, I'd definitely pick cats. I appreciate their independence and their ability to be self-sufficient, which aligns with my own personality. Cats' self-reliance and their strong sense of individuality resonate with me. Cats are simply magical.
Finally, please tell us an interesting or funny fact or story about yourselves.
The sound of the crows' cawing at the end of the song "Give the Devil His Due" is an homage to the album "The Cold White Light" by the Finnish band Sentenced.
I added this element as an inside joke shared between me and our producer, Hiili Hiilesmaa, who also produced the Sentenced album – one that I hold dear, as one of my favorites.
Many thanks to Mark Waight and The Female Voices of Metal and Rock.
Debut Single Premiere of DEAD BEFORE MY EYES Official Video Clip.

Available on Digital Platforms March 18, 2022.
Stream DEAD BEFORE MY EYES on your preferred music service: click here

Click on the Youtube Video to subscribe and watch it with us
ABOUT
    Absinthe Green is the brainchild of songwriter, producer and multi-instrumentalist Eirini "Absinthe Green". Absinthe made a name for herself playing the bass for different acts of the metal scene through the years. She has participated in international projects, such as handling the bass duties for the German band Enemy of the Sun, and Greek dark metal act RandomWalk among others. Furthermore, she has shared the stage with renowned artists in numerous shows and festivals throughout Europe. 

    Absinthe started writing music for this project back in Germany, in 2016. Having a diverse musical background, her songwriting blends a variety of music genres and influences together, into the unique sound of Absinthe Green. 

    After a while, the moment has arrived for her to realise her personal vision in the form of a full band. This coincided with the artist's move back to Greece in the end of 2019, where Absinthe was joined by former RandomWalk bandmate Harry Mason on drums and later on by Villy Pirris on bass, with herself on vocals and  guitar. 

    Harry's groovy, solid beats and energetic stage performance made him the perfect accomplice to undertake the drums duties for the band. 
    Villy came into the picture in the spring of 2020, after an audition the band had scheduled. His musical skills and professionalism convinced Absinthe and Harry from the very beginning that he was the right person for the job, so he quickly joined the ranks of Absinthe Green. Villy's smooth, assertive playing and dynamic performance, along with his energy, commitment and enthusiasm made him an ideal choice and valuable asset for Absinthe Green. 

    The debut album "Of Love and Pain", is an amalgamation of Absinthe's musical influences and personal life experiences. 
Produced by renowned producer Hiili Hiilesmaa (HIM, The 69 Eyes, Amorphis, Moonspell, Sentenced et al.), it combines pop elements with aggressive guitars, solid, groovy drum beats and a variety of vocals that have the ability to pull diverse audiences together. 

   The album, coming out later this year, consists of 11 tracks that venture into life's duality and inner struggles with love and pain, loss and recovery, destruction and creation, light and darkness.
MUSIC
Give The Devil His Due
Absinthe Green
PRESS/MEDIA
For all Press/Media enquiries, please contact info@absinthegreen.com